Hoy lunes, la artista Ola Ghanem apareció por primera vez luego de una ausencia de 4 años del panorama artístico, mientras viajaba a América para quedarse allí con su familia luego de presentar su último trabajo, la película The Hotel en 2017, donde Ola apareció mientras se estaba peinando y dijo: "Mi supermercado está a 4 años de mi país y regresé". Para alisar mi cabello.
Ola Ghanem participó en la película "The Hotel" con Mohamed Nagati, Marwa y Ahmed Badir, dirigida por Atef Shoukry, y la serie "Taste of Life" con Samo Zain, Sandy y Hasna Seif El-Din y dirigida por Abdel Aziz Hashad, además de la serie "Shadow of the President" con Yasser Jalal, Mahmoud Abdel-Mughni y Hana Shiha. Dirigida por Ahmed Samir Farag.
Desde 2017, la artista Ola Ghanem no ha aparecido en ningún trabajo artístico, y su aparición se ha limitado solo a ocasiones familiares y cada período que aparece con sus dos hijas en Estados Unidos, y todos los fanáticos de la artista Ola Ghanem se preguntaban si se retiró de Arte permanentemente y se alejó de las luces y la fama, y ​​vive con sus dos hijas en América, o es ella. Este paso aún no se ha dado.
En 2016, Ola Ghanem participó en 6 obras de arte, a saber, la serie "Las siete niñas" con Iman Al-Asi, Faryal Youssef, Reem Al-Baroudi, Tara Emad, Mohamed Nagati, dirigida por Mohamed Al-Naqly, y "Kingdom de Youssef Al-Maghrabi "con Mustafa Fahmy, Munther Rayhana, Anushka, dirigida por Adel Al-Aasar, y la tercera parte. De "Selsal Al-Dam" con Abla Kamel, Riad Al-Khouli, Ahmed Saeed Abdel Ghani, dirigida por Mustafa Al-Shall, la serie "Abu Al Banat" con Mustafa Shaaban, dirigida por Raouf Abdel Aziz, y la serie "Al -Kharj "con Dhafer El Abidine y Sherif Salama, además de la película" Spine "con Wael Alaa. Bayoumi Fouad y Enas Al-Najjar, dirigida por Abram Nashaat.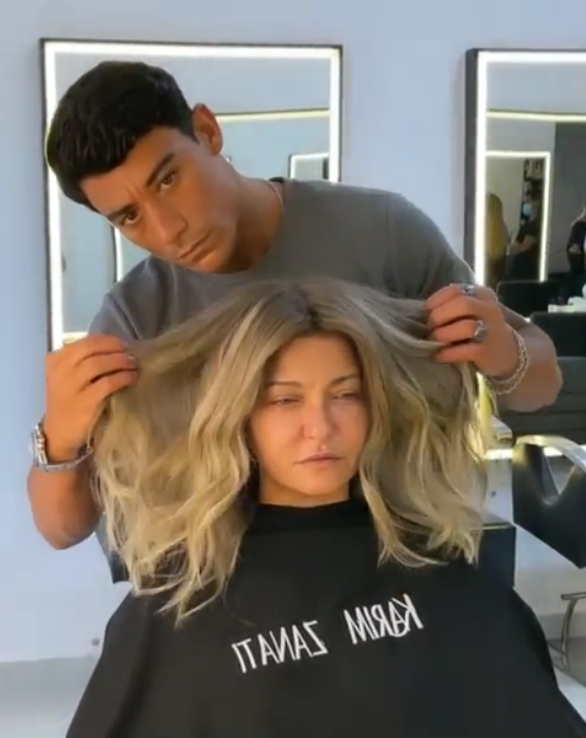 Ola Ghanem
.