Hace cincuenta años, los estadounidenses se despertaron con la portada de un periódico que revelaba cómo durante años los líderes del país los habían guiado detrás de la luz de la guerra estadounidense en Vietnam.
Gracias al denunciante de 30 años Daniel Ellsberg, The New York Times y otros medios estadounidenses obtuvieron acceso a un estudio ultrasecreto del Pentágono. Mostró la poca correspondencia que había entre el panorama optimista dibujado por los líderes estadounidenses y la brutal realidad de la guerra de Vietnam.
El estudio, denominado los Papeles del Pentágono, fue encargado por Robert McNamara, quien fue Secretario de Defensa durante gran parte de la década de 1960.
Ellsberg participó en el trabajo y él mismo estuvo en Vietnam en representación del Ministerio de Relaciones Exteriores de Estados Unidos. Durante su estadía, estuvo convencido de que la guerra nunca se podría ganar, algo que los líderes estadounidenses se negaron a admitir.
Después de regresar a los Estados Unidos, Ellsberg se unió a RAND Corporation, un grupo de expertos que ha estado realizando investigaciones y análisis para el gobierno de los Estados Unidos desde 1948. Allí obtuvo acceso al estudio estrictamente calificado que él mismo había ayudado a preparar unos años antes.
Copiado en secreto
En octubre de 1969, decidió que el estudio debía publicarse y comenzó a copiar en secreto las 7.000 páginas.
La copia tomó varios meses y los documentos fueron sacados de contrabando con la ayuda del colega Anthony Russo, así como de los dos hijos de Ellsberg de 10 y 13 años.
Luego, Ellsberg se puso en contacto con varios demócratas destacados que habían criticado la guerra en Vietnam, entre ellos William Fulbright y George McGovern, pero ninguno de ellos quería hacerlo público.
Periodista contactado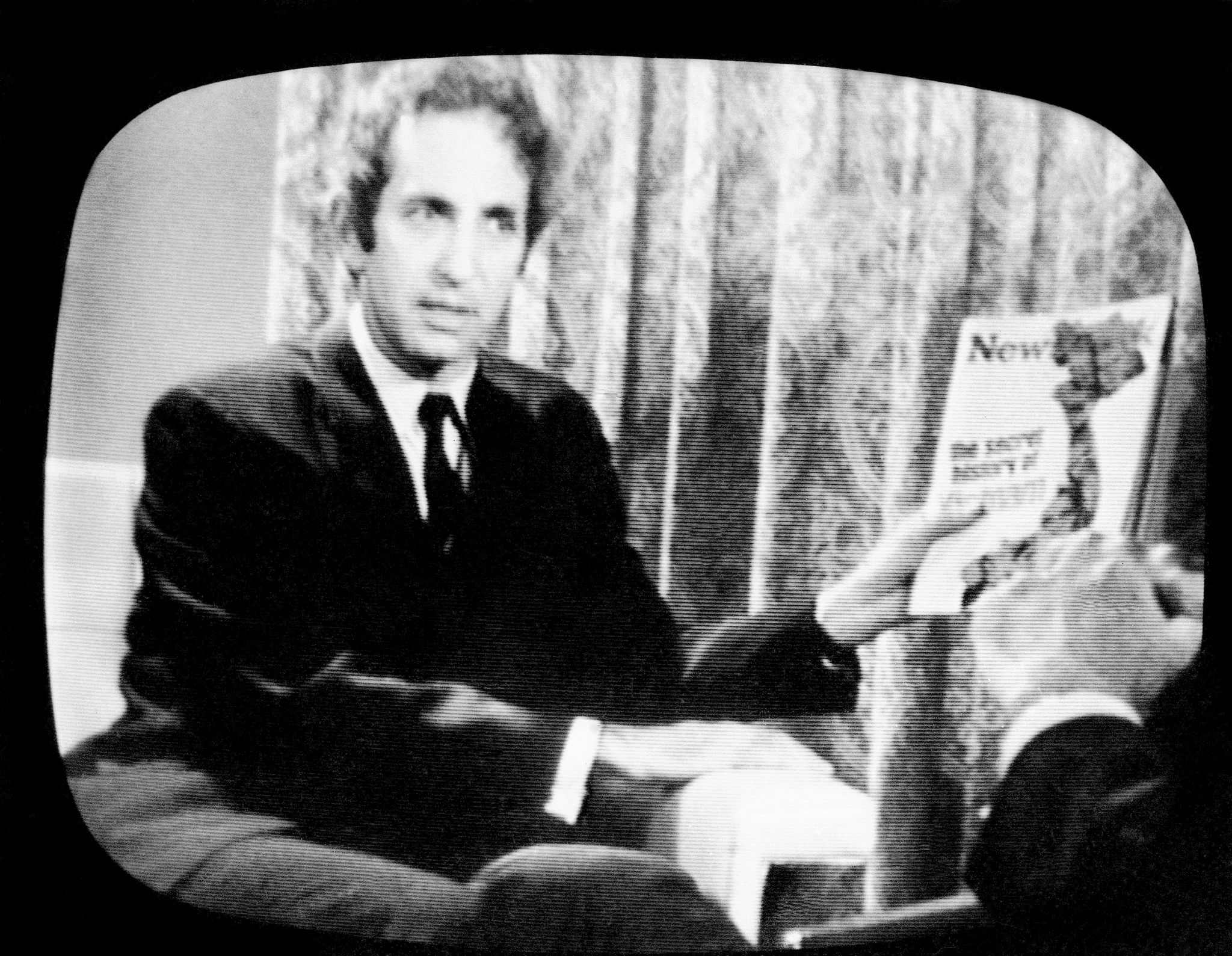 Después de un largo período de frustración, se puso en contacto con el periodista Neil Sheehan de The New York Times, quien en marzo de 1971 recibió 43 de los 47 volúmenes del informe.
Mientras se calificaba el contenido y sabiendo que las autoridades harían cualquier cosa para evitar la publicación, Sheehan y un pequeño grupo de colegas establecieron oficinas fuera de la oficina editorial.
Siguieron varios meses de intenso trabajo, antes de que la dirección editorial decidiera desafiar las advertencias de los abogados del periódico. El 13 de junio de 1971 fue el primer caso que se encontró en la portada del periódico.
El artículo golpeó como una bomba, revelando cómo la Casa Blanca había liderado al público desde el primer día. Siguió una ola de protestas contra la guerra de Vietnam y el debate político se calentó.
Impresión denegada
La administración del presidente Richard Nixon hizo todo lo posible para detener la publicación y logró que un tribunal federal rechazara que el periódico imprimiera más artículos de la serie.
El asesor de seguridad nacional de Nixon, Henry Kissinger, llamó a Ellsberg "el hombre más peligroso de Estados Unidos al que hay que detener a toda costa", y el hombre de 30 años se ocultó en un hotel en Boston.
Dado que al New York Times ya no se le permitió imprimir las revelaciones, se puso en contacto con el Washington Post, que estaba más que dispuesto a hacer un seguimiento.
Pronto también se les ordenó detenerse, pero Ellsberg luego pasó a periódicos como Boston Globe y St. Louis Post-Dispatch y siempre estuvo un paso por delante de los intentos de las autoridades de amordazar.
Aliado en el Senado
Entonces Ellsberg encontró un aliado del demócrata Mike Gravel, quien entregó en secreto miles de páginas de documentos en un estacionamiento.
Gravel formó parte del comité de construcción del Senado, que convocó con poca antelación. Como único miembro del comité presente, leyó durante las siguientes tres horas los documentos que había recibido, antes de romper a llorar, sabiendo que los árbitros se habían llevado todo consigo y que, por lo tanto, todo era público.
Gravel también se aseguró de que se adjuntaran más de 4.000 páginas de documentos a las actas, y para la administración de Nixon, la batalla estaba así perdida.
La Corte Suprema de los Estados Unidos finalmente levantó la prohibición de los periódicos de publicar más y el contenido de los Papeles del Pentágono se hizo conocido en todo el mundo.
Entregado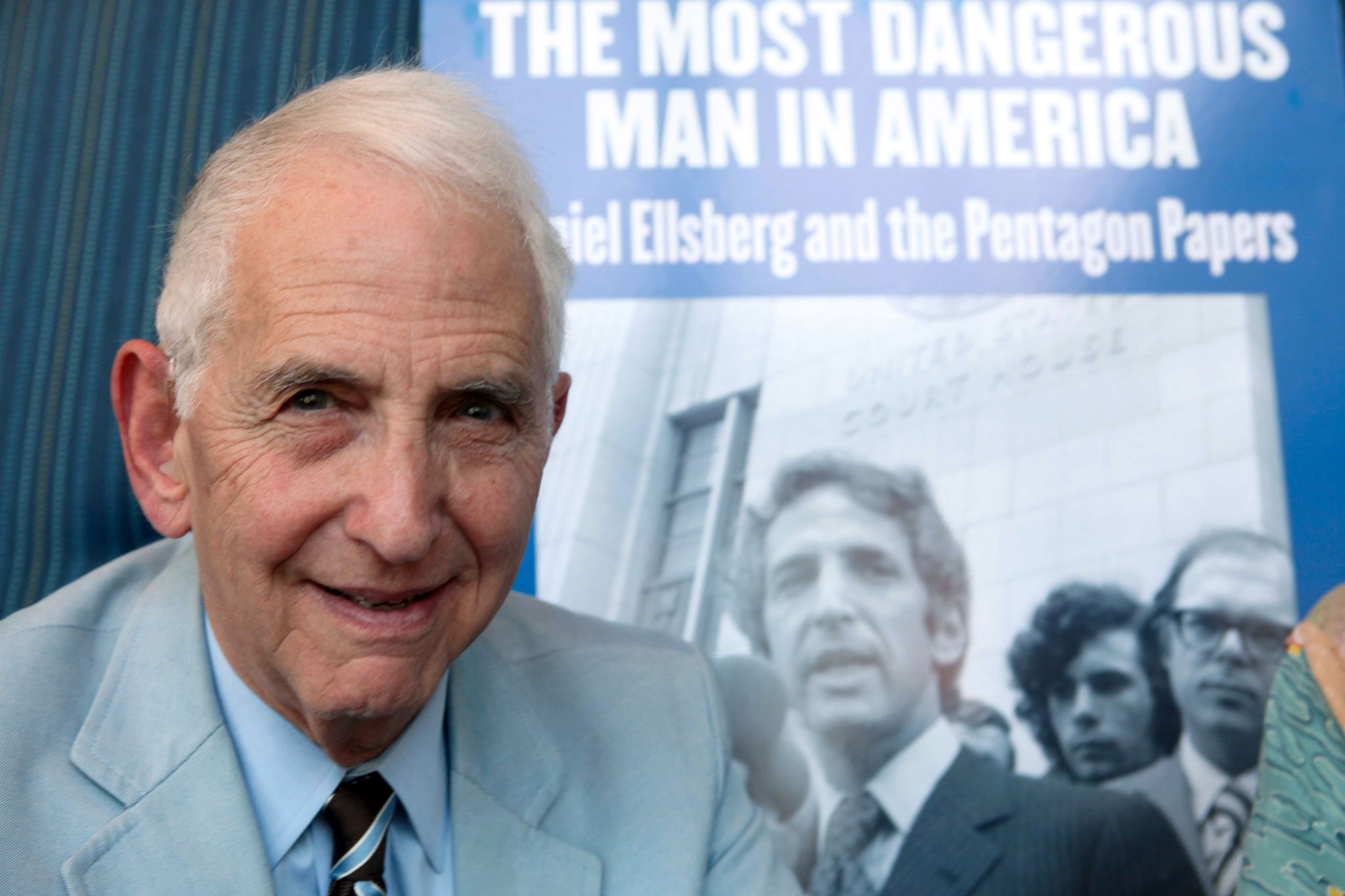 Ellsberg se rindió al FBI, fue acusado de espionaje y se espera que pase el resto de su vida en prisión. Pero ese no fue el caso.
Los medios estadounidenses revelaron gradualmente cómo las autoridades habían cometido una serie de delitos en su búsqueda, entre otras cosas al irrumpir en su psicólogo con la esperanza de encontrar papeles que pudieran usar para ennegrecer y debilitar su credibilidad.
También se jugó con la idea de la liquidación, y varios de los que participaron se convirtieron más tarde en figuras clave en el escándalo de Watergate que asoló a Nixon.
La acusación contra Ellsberg finalmente se retiró y, en todos los años desde entonces, ha sido un firme defensor de la causa de la paz y un fuerte crítico de la guerra de Estados Unidos.
Ingenuo e irresponsable
Ellsberg, que ahora tiene 90 años, se ha marcado en los últimos años como un cálido defensor de denunciantes como Chelsea Manning, Edward Snowden y Julian Assange, quienes, como él, son acusados ​​de traición y traición después de mirar a los que están en el poder en el tarjetas y publicación del material de sello secreto.
– Es ingenuo e irresponsable que los adultos confíen en la información que recibimos de nuestros líderes sobre política exterior, guerra y paz. Es absolutamente crucial con otras fuentes de información, afirmó Ellsberg hace unos años.
– Deberíamos haber tenido al menos una filtración como los Papeles del Pentágono cada año, cree el viejo denunciante.